January 22. 2020
Strap On 101: The What, The How, the Pegging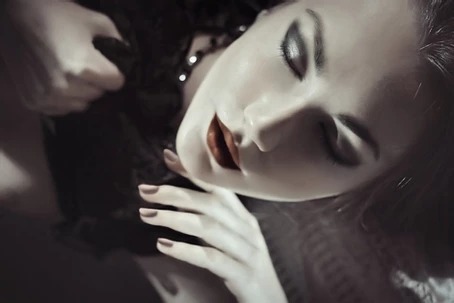 What is a strap-on? It's a dildo that a person—usually a woman—can wear. With the help of a harness to hold the strap-on in place, she can flip the script with her lover. Pegging is a thrilling sexual practice that can change the dynamic and ramp up the pleasure of every participant.
If you're ready to figure out how to use a strap-on correctly, then Mister Hankey's Toys is here to demystify the practice. Open your mind to a new experience that will bring the two of you closer while giving you the most powerful orgasms in your life. By the time you're done reading our handy guide, you'll be more than ready to pick out a strap-on for pegging.
The Practice of Pegging
What is a strap-on? It seems like an easy question, but you have to consider it in the context of pegging. Pegging is the act of anally penetrating your partner with the help of a strap-on dildo or vibrator. Typically, it specifically refers to a woman penetrating a man.
The practice is gaining in popularity, and we're so glad to hear it. Pegging can add to the intimacy and pleasure of your sexual escapades with your partner. It's also a wonderful way to introduce a man to his prostate. Stimulating the P-spot turns a man's orgasm into an out-of-this-world experience. The prostate is full of nerve endings, after all.
Choose the Right Strap-On(s) for the Job
Knowing what a strap-on is and what it's for is only half the battle. Picking out a strap-on for pegging is the other half. The two of you need to do this together, but take your boyfriend or husband's lead on this part of your adventure. It's up to him to decide on the size, shape, and thickness of the dildo.
P-spot stimulation is one of the most thrilling things that a guy can do sexually. It's all the better if he has an eager, loving partner to give him a hand—so to speak. However, we can't stress enough that he needs to feel comfortable with every part of the act. As such, he needs to choose a strap-on dildo that appeals to and excites him.
Give him the freedom to choose the powerful piece that will soon be thrusting into him. It might be more comfortable to start slow—and small. With your assistance and an excellent stroke game, he can work his way up from small or medium.
Using Essential Accessories
Here's another question: what is a strap-on harness? A harness is what you wear to keep a strap-on firmly in place. Straps around the waist and thighs allow you to adjust it to fit. All you have to do is ensure that the harness you choose is compatible with his desired dildo.
You may need to buy additional O-rings to ensure that the dildo fits snugly in the harness. A stable fit is vital for his pleasure and yours. An adaptable harness that uses O-rings can grow with you as a couple, meaning that you can move up to longer, thicker members.
To work out how to use a strap-on correctly, a butt bolt is a must-have accessory, as well. He might not be interested, so discuss the pros and cons. The main benefit is that a butt plug or stretching toy can prepare him for the roll of your hips and the thrust of your new cock.
Lube Him Up
Last but most certainly not least, here's the most important secret behind how to use a strap-on correctly: include lots of lube. Engage in foreplay to get each other in the mood, at which time you can also get him ready for the pounding he's about to take.
Go slow, too. There will be time enough for a frenzied bout of bedroom gymnastics, but in the very beginning, you need to go an inch at a time. Give him time to get used to the dildo invading his most hidden places. Once he does, you'll both lose your minds. He'll beg you to go deeper, faster, and harder.
What is a strap-on? It's the answer to your hottest dreams. Explore your boundaries as a couple so that you can keep the sizzle in your sex life. Check out the selection at Mister Hankey's Toys for strap-ons, harnesses, O-rings, and plenty of lube, too.
•