February 02. 2023
What Is a Dildo? Everything You Need To Know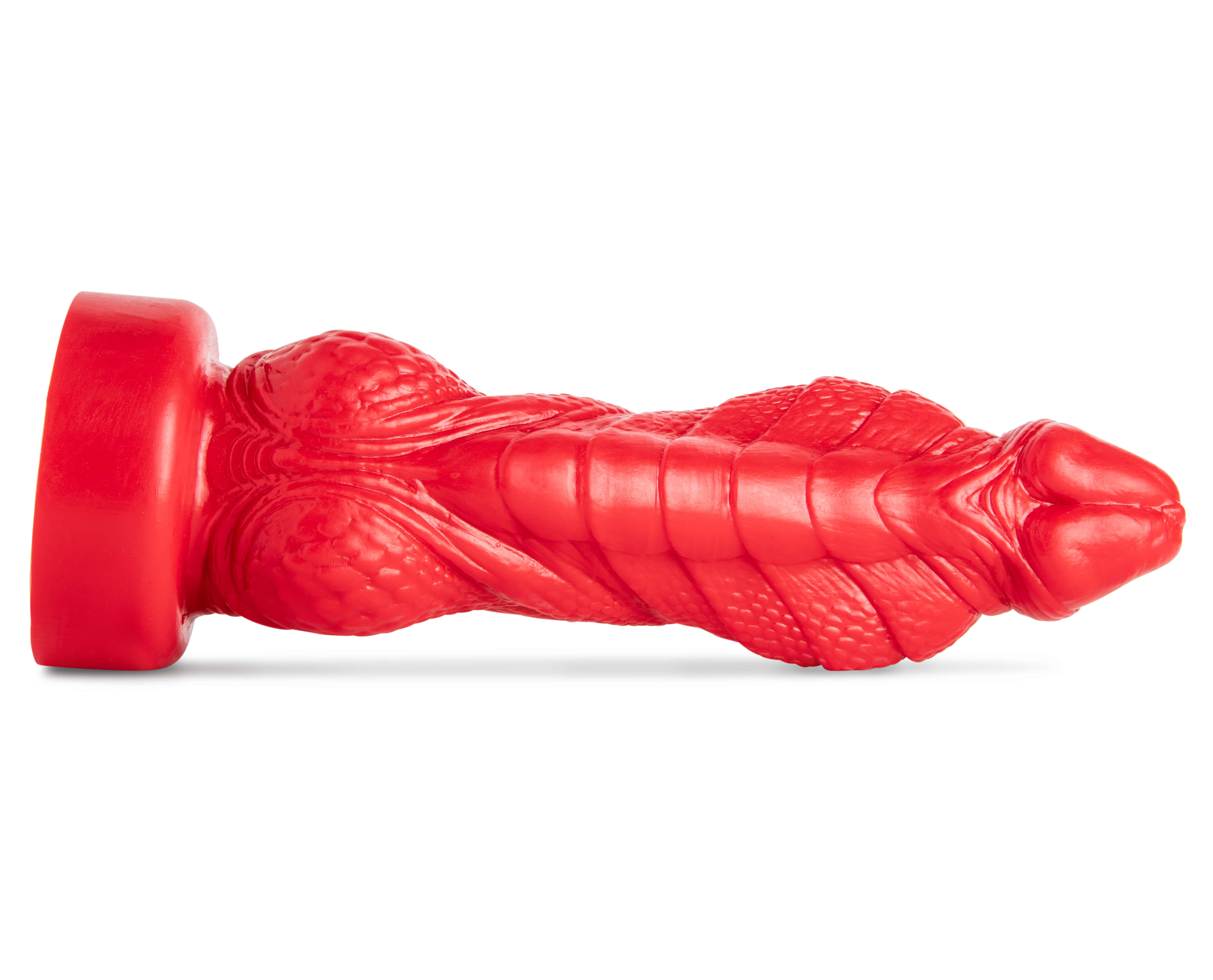 Dildos. They may be uncomfortable to talk about, but they're worth every inch of pleasure. Dildos come in many shapes and sizes and will help you experience new forms of pleasure. With the global sex toy market reaching 34 billion dollars in 2021 and likely reaching $81 billion by 2030, it's time to understand what dildos are.
Unfortunately, dildos and other sex toys aren't a topic that's typically talked about, as sex is often taboo. The good news is that we're here to help. We'll take you through everything you need to know about dildos and even how to use them.
Read on to discover new avenues of pleasure below.
What Is a Dildo?
Dildos are sex toys that you use for penetration. Typically, dildos are for personal use (masturbating), but some people may incorporate dildos into foreplay or sex. Dildos may also have ribbed edges or other attributes that make them more pleasurable for penetration.
A dildo may also come in many shapes and vary in length. While some dildos are shaped like an erect penis, others may resemble other objects. Furthermore, dildos may also be molds of someone's penis, adding a sense of realism.
Dildos can be made from rubber, silicone, metal, and other materials.
What Are Dildos Used For?
Dildos are typically used for penetration. They're often designed to help people stimulate their g-spot, which helps with orgasms. Vibrating dildos may also be used for clitoral stimulation, enhancing orgasms. Some vibrating dildos may be designed to stimulate the clitoris and g-spot at the same time.
Depending on the person, dildos may be used in the mouth, butt, or vagina. Some data also suggest that there may be a psychological aspect to dildos that's popular during kink-play in the BDSM scene.
Who Are Dildos For?
Dildos are for everyone. Regardless of gender or sexual orientation, it's possible to find pleasure with a dildo. For women, dildos stimulate the clitoris, g-spot, or both. On the other hand, dildos for men typically stimulate the prostate, which is done through the anus. Women may also wear dildos as strap-ons to penetrate their partners.
What Is the History of Dildos?
According to the University of Columbia, the first dildo was found in a German cave. Archeologists discovered that the dildo was roughly 28,000 years old. So, dildos have been around since the Ice Age.
Civilizations like ancient Egypt also got freaky with dildos. In 3,000 B.C.E., women wore large phallic objects to honor their god Osiris. Ancient Greece also used dildos, and the men would give them to women before leaving for long periods. These dildos were typically made with leather, and olive oil was the go-to for lubrication.
Periods like the Renaissance were also popular for dildos, especially for the upper classes. Dildos made of precious metals were often kept as trophies and status symbols. Like many things throughout this time, dildos became another form of artwork. The Renaissance was also when the first iteration of the word "dildo" was used. It comes from the Italian word diletto, which means: to delight.
Dildos have also been troubled because European men believed that these phallic objects would steal their women. In fact, a series of laws were passed to ban the manufacturing and sale of dildos. Even the United States had laws against dildos that date back to the 1800s.
Today, dildos are a popular topic and have been since the sexual revolution of the 1960s.
What Are the Types of Dildos?
There are several types of dildos, and the number varies based on who you ask. However, we've found that there are 10 common types of dildos. Each type has a unique design element that sets it apart from the others.
Hard Dildos
Hard dildos are dildos that are made with hard materials. Common materials for hard dildos include glass, crystal, and stainless steel, along with precious metals like gold or silver. When used for pleasure, hard dildos are perfect for stimulating specific areas or adding a sense of fullness that soft dildos don't offer.
Soft Dildos
As the opposite of hard dildos, soft dildos are made with flexible materials. Soft dildos are typically made with silicone or rubber and may include rubbing or other design choices to enhance pleasure. A soft dildo also feels softer during penetration.
Representational Dildos
Representational dildos resemble a human penis. They come with realistic design elements like veins along the shaft, penis tip, and a skin-like texture.
Representational dildos may also include testicles and the unique texture that testicles have. Some testicles may even flap around when using the dildo, which may provide additional stimulation. So when you want the real thing, representational dildos are a great option.
Realistic Dildo Molds
Realistic dildo molds are dildos based on someone's actual penis. Dildo molds are accurate and almost give you a 1-to-1 model of a person's real-life penis. For example, the Marco Napoli is modeled after the famous Marco Napoli's penis. That said, the benefit of a mold is that you can get someone's replica in several sizes.
Fantasy Dildos
Fantasy dildos help you explore your most unique desires. A fantasy dildo may be in the shape of tentacles, a horse penis, or even a fist. Fantasy dildos give you a unique experience that you'll never have with a regular penis (dildo or not).
Vibrating Dildos
A vibrating dildo is a dildo that vibrates. Vibrating dildos come in many shapes and sizes and may even have a design that penetrates the vagina and stimulates the clitoris at the same time. A vibrating dildo may also look like a regular penis, but they're typically uniquely shaped to reach the best spots with their vibrations.
Double-Ended Dildos
Double-ended dildos are meant to be enjoyed by two partners simultaneously. They can be used vaginally or anally. Some partners may even suck on them at the same time, which makes them popular during orgies and threesomes.
Strap-On Dildos
Strap-on dildos are worn around someone's waist. With a strap-on dildo, you can penetrate your partner without using your hands. These dildos are popular for sexual acts like pegging, where a woman uses a strap-on dildo to have anal sex with her partner.
To use a strap-on dildo, you typically need a strap-on harness. Strap-on harnesses are usually made from leather, though there are also vegan leather options like the Carmen Rivera Strap-On Harness.
Pack-and-Play Dildos
Pack-and-play dildos are meant to be worn throughout the day. They're usually strapped around someone's waist and tucked away to create a bulge in their pants. However, these dildos can be bent to an erect position for penetration.
Suction Cup Dildos
Dildos with suction cups have suction cups at the base of the shaft. These dildos are easy to place in one spot and allow you to pleasure yourself without your hands. For example, you can squat down or sit on it. Suction cup dildos are also useful for traditional dildo penetration, so it's the best of both worlds.
What Are Dildos Made Of?
Dildos are made from a variety of materials. It's important to understand each material to learn about how a dildo will feel inside of you. We'll take you through the materials used for dildos below.
Jelly Rubber
Jelly rubber is a combination of PVC and rubber. It's one of the most popular materials for sex toys, but it's fallen in popularity because of concerns about its safety. It's a material that's flexible and easy to mold, which is why many sex toy manufacturers use jelly rubber.
Jelly rubber sex toys may also have some additional chemicals, like phthalates. These chemicals enhance the dildo's flexibility, but phthalates may irritate sensitive skin. It's also important to note that jelly rubber is porous, which makes it one of the harder materials to clean.
Plastic
Plastic dildos are hard dildos that don't bend as much as silicone or jelly rubber dildos. They are also easy to clean and durable, which helps them last for many years. When it comes to vibration, plastic is also one of the best materials for a dildo.
Because plastic is a non-porous material, it doesn't take long to clean them. Some plastic dildos may also be coated with rubber or oils to enhance pleasure.
Silicone
Silicone dildos are easy to maintain, flexible, and durable. Most high-end silicone dildos are made of platinum cured silicone, which is non-porous, won't irritate your skin, and are generally body safe. Silicone is also smooth to the touch, but it's easy to make molds with, so any shape or size is possible.
Some dildos are also made with liquid silicone. Liquid silicone shares many of the same qualities as regular silicone, but it feels more realistic.
Glass
A glass dildo is a hard dildo that's crafted with tempered glass. They're often colorful and resemble pieces of art, which is why many dildo enthusiasts even collect them. Glass dildos are non-porous, easy to maintain, and the tempered glass won't shatter.
Glass dildos are also easy to maintain; they can be coated in lubrication and cleaned up quickly.
Metal
Metal is another material that's used for hard dildos. A metal dildo may be made with stainless steel, gold, silver, and other metals. Metal dildos don't have an odor or taste, which is great for getting started. These dildos are popular in the BDSM community and are often kept as prized possessions.
These dildos lack flexibility, which makes them rigid and uncomfortable for some pleasure-seekers. But, while they lack flexibility, they're the most durable dildos around and are easy to clean.
Final Thoughts
A dildo is more than just a penis-like object used for penetration. Dildos will help you explore your fantasies, introduce new things in the bedroom, and take you to greater levels of pleasure you never thought were possible.
When shopping for dildos, always make sure you consider all of the variables. Make sure you choose the material that's right for you and start with something small before working your way up.
•