January 01. 2020
How Dildos Help Increase Sexual Interest & Make Sex More Exciting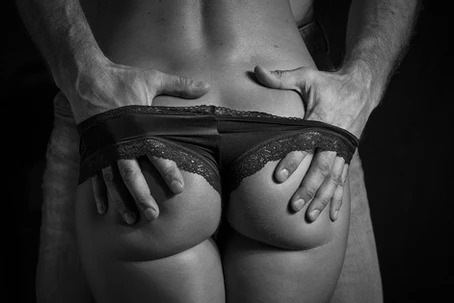 Want to know how to make sex more exciting? The answer is simple: bring a dildo into the bedroom, or
wherever
. A dildo can put the
oomph
back into a dead bedroom in a variety of ways. It's the 21st century. Sex toys are for everyone, and couples, in particular, can get a kick out of them. You just have to be brave and confident enough to experiment. The two of you also need to trust each other implicitly. Still not convinced? Then let the Hankey's Toys teach you how to increase sexual interest with the inclusion of the perfect toy.
Communication is Sexier… with Dildos
The real secret behind how to make sex more exciting is simple: communication. You and your partner have to talk about what you like, what you want, and what you've been dying to try in the bedroom. The two of you also need to trust each other enough to reveal the things that aren't working in your sex life. It may seem unbelievable, but buying a dildo together can encourage communication and make it easier to open up to each other about your fantasies and preferences.
Think about it. Buying a toy for the bedroom involves choosing something you both want to use. Whether you stroll into a sex shop or visit a discreet online store like Hankey's Toys, you have to talk to each other about what you want to try. One of you might want a traditional dildo, the other may want to play around with a harness. Whatever the case, a discussion is essential, and it can lead to deeper talks about what you want out of your sex life and which toys can help you get there.
The Bounds of Experimentation
Figuring out how to increase sexual interest often means opening your minds. Your first dildo can jump-start that. All those discussions about what you like and what you crave will boost your intimacy via communication. Experimenting is just par for the course.
Bringing a dildo into the mix can prompt you to explore with each other, which is exciting and fun in and of itself. Deciding how to use it on each other is part of the thrill. You can experiment with an assortment of designs and shapes, even if you want to get a bit kinky. From firmness to color to size, the world is your oyster. Men can use the dildo on their female partners, women can try pegging their boyfriends and husbands, and same-sex couples can take turns or try out a new dynamic.
No Pressure
Understanding how to make sex more exciting starts with knowing your partner and your chemistry with them. Anxiety and nerves happen. Performance anxiety, specifically, is more common than you might think. In the moment, the pressure to get off and pleasure your partner can be too much. It feels like you're on a time clock, or like you're being graded.
Playing with a dildo can soothe your nerves. There's less pressure because it's not all up to you.
A Springboard into Your Sexual Fantasies
If you want to learn how to increase sexual interest, then you have to get out of your box. A dildo may be the key that unlocks your deepest sexual fantasies. Once you and your partner begin to play, you'll communicate more, as well. Using a dildo with each other can lead to discussions about how you'd like to try role play, light BDSM, or anal play with a fantasy dildo. You'll be more comfortable talking about what you want as well as trying new things.
From Foreplay to the Finish Line
Foreplay is fun. Orgasms are fun. Your shiny new dildo can come into play for both of those things. A bit of teasing before you get down to business can prime the pump, so to speak. Foreplay is a must-have for many women to get into the mood, but men enjoy a bit of teasing and tempting, as well. Your toy can get you going as you gear up for the finale.
Speaking of the finale, as mentioned, your dildo can make it easier to reach climax. It takes the pressure off each partner to orgasm and to pleasure the other person. It may also help you to achieve a killer orgasm—or two, or three.
Learn more about how to make sex more exciting with a dildo. Check out the wild, wide-ranging selection at Hankey's Toys today!
•