January 08. 2020
Know the Ins & Outs of Dildo Texture & Firmness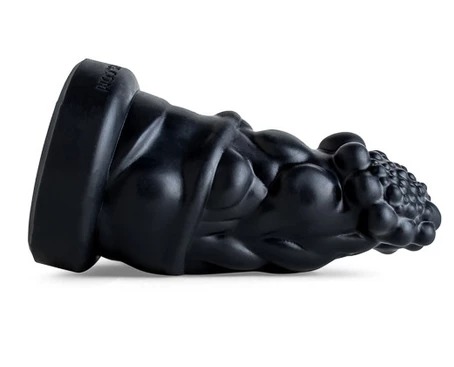 Dildo texture comes in such a variety that it's safe to say there's a dildo out there for everybody who wants one. Whether you prefer a highly-textured but floppy dildo or a smooth, firm dildo, there's a toy out there that's made just for you. To find your perfect match, you need to know what textures are available, how they feel, and whether your body will respond to a rock-hard dildo or something with a little give. Once again, Mister Hankey is here to help you on the journey to find the Golden Dildo.
Defining Dildo Texture
Dildos come in a range of textures. It comes down to the design and materials used. Platinum silicone, the material Hankey's Toys products are made with, is one of the best materials because it's versatile, safe for the body, non-porous, and easy to clean.
Glass, metal, and ceramic dildos are as firm as they get. They're easy to clean and safe for the body, as well, but the longer and thicker they are, the more uncomfortable they may be, depending on your body and what it's used to size-wise. Ultra firm dildos with veiny textures, tentacles, knots, and other prominent designs may seem even harder because the details are so pronounced. Our firmness ranges from medium firm to about 75% softness: medium firm being a delightful firmness akin to a fully erect penis, and 75% soft offering a little more flexibility.
Keeping Texture and Firmness in Perspective
Dildo texture varies from brand to brand, manufacturer to manufacturer, and shop to shop. What's classed as soft at one place might be extra soft at another. What that means for you is that you need to do your research. Whenever possible, try to get your hands on a dildo before you try it. That way you can squeeze it, bend it, and test the core firmness—or softness—yourself.
Of course, if you visit an online store, that's obviously not possible, but you can still research the dildos in which you're interested before you commit to one. Check out sex toy reviews, first of all. You can also read up on the specs of each toy you're thinking about trying. At Mister Hankey's Toys, for instance, our toys come in an array of textures, and many of them are also available in your choice of firmness or softness. We give you all the details so you can find the toy that's perfect for you. That can make a difference in how you use the toy, how comfortable it feels, and whether it will work for your favorite sexcapades, so it's worth learning when a floppy dildo is the right pick and when you want something firmer.
The Texture Trick
As a rule, firm dildos can hold texture better than softer toys. The firmer a toy is, the more the texture stands out, especially the ridges and veins of realistic dildos and the titillating texture of fantasy options. Harder toys force more definition, but the truth is that even a soft, floppy dildo can be pleasurably textured with life-like precision.
You might be highly stimulated by texture. That's great! Don't feel like you have to limit yourself to firm toys, though. The secret is to be a bit of a size queen. Larger toys automatically feel harder, but they can be made of malleable silicone and other soft materials, as well. In fact, you might have more luck with a thicker dildo if you select something with a bit of give to it.
From Large to Small: A Takeaway Guide
The main thing to remember about dildo texture is that size matters nearly as much as material. In general, choose smooth, extra firm toys that are smaller. These dildos are ideal for G-spot and P-spot stimulation. If you want to experiment with a girthy dildo, softer is better. Go for something with a silicone core or a slightly floppy dildo that conforms to your body rather than making your body conform to it.
The best way to figure out which dildo textures you like best is to experiment. Consider a sampler pack of materials, for example. You can find that and more at Hankey's Toys.
•