December 25. 2019
Top Unique Dildos for an Adventurous Sex Life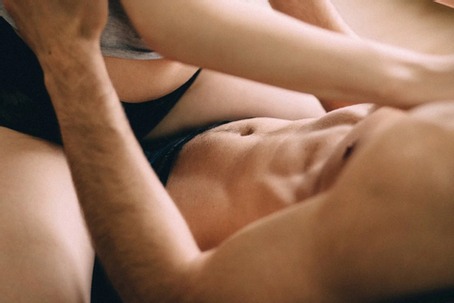 To say that our
sex toy collection
is crammed full of sexy, unique dildos is an understatement. Unique is kind of our thing. Mister Hankey's Toys specializes in adventurous dildos and one-of-a-kind sex toys that you won't find anywhere else. We have the dildo you need to bring your fantasies to life, whether you dream about a thick, meaty cock or a rendezvous with a fantasy creature. Spice up your sex life with your partner or treat yourself to a wild toy to enjoy during your alone time. Just think about your kink, then check out our personal list of must-have dildos.
Breakfast in Bed
Sometimes, you want to wake up to a thick, juicy sausage and smooth, delicious eggs. With a unique dildo in your bedside table, you can enjoy a pick-me-up every morning, either with your lover or with yourself. Order Chorizo n' Eggs for breakfast and you're guaranteed an early dessert. There's no better way to start your day than with an orgasm. This sausage is on the fatty side, though, so make sure you have some lube in your bedside table, too. In fact, that's a smart practice regardless of your preferred dildo.
A Sex Toy for the Serpent in All of Us
Calling all Slytherins. If you want an adventurous dildo that will help you explore the pleasures of anal sex, the Sigmaloid is it. Not only does it resemble a sexy, sinuous serpent, but it's designed to be a probing finger ready to tickle your insides. With a narrow, pointed head that gradually widens but never becomes too thick, it's just the right dildo for a little butt play. Play with yourself or with a partner. Both of you are bound to love it if you're brave enough to explore life through the backdoor.
Be Blunt About It
There are times when a blunt pounding is just what the doctor ordered. To fulfill your fantasies of a girthy, powerful draconian dick, you need a unique dildo like the Solatok. Its blunt tip was created to batter its way in, and after it breaches you to the hilt, its rounded, muscular knot will lock you into place. The toy is ribbed and ridged in all the right places, and the stretch will fulfill you in ways you didn't even know you needed. It might be formidable, but you can start with the smallest size and work your way up to the thickest.
The Long and the Short of It
Do you crave length? For depth divas and length queens, the perfect adventurous dildo is long but not necessarily thick. When you're going for depth, a slender toy can be best. Long and slim is a unique combo for sure, but we've got one that will slip right up your alley. Long John has over a foot of insertable length—13.25 inches, to be exact. Those long, deep strokes are guaranteed. You can even practice depth play on your partner as long as you fit your harness with a 3-inch ring. Whoever uses the lengthy dildo will feel it for days after and still desire more, more, more.
Hungry Like the Wolf
Fulfill your furry fantasies with a unique dildo modeled after your favorite animal. The Beowulf has the added benefit of appealing to lovers with a literary bent. Veiny and rigid with a thickly muscled knot, it will slide in, stretch you wide, and stay put. It's available in several sizes, allowing you to get as close to the wolf of your dreams as possible.
Hentai Heaven
The Taintacle is a truly adventurous dildo. It's made for anyone who dreams of hentai scenes and tentacle sex. Play out your deepest fantasies with the sensually S-curved tentacle toy, which you can snag in small, large, or extra-large. The shape and curves are ideal for anal play, especially if you're looking to hit the P-spot on every thrust—whether you're giving or receiving. That curve can work for vaginal penetration, as well. Once and for all, you can prove that the G-spot is not a myth.
Treat yourself to a unique dildo from Mister Hankey's Toys. No matter what you want, we have a toy that will breathe life into your kinkiest fantasies. Allow yourself to be a little more adventurous in the bedroom, both with your partner and with yourself.
•