January 15. 2020
Best Dildo Material for Life-Like Pleasure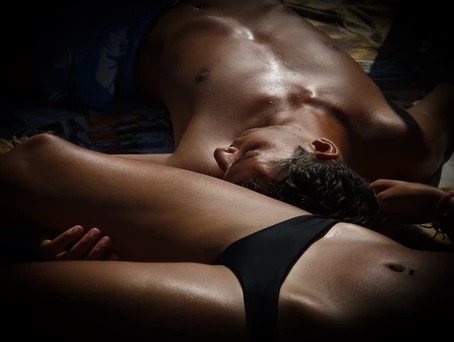 Knowing the best dildo material helps you to choose a life-like strap-on or dildo for your sexcapades. Life-like sex toys look and feel like a real member. Some of them are cut, others are uncut. You can pick out a dildo that curves a little to the left, or choose one that boasts a flared head that's sure to hit all of your sweet spots. It has to feel real, too. That comes down to the material and the way it's been designed. Mister Hankey's Toys has it all laid out for you.
Sexy Silicone
Silicone is far and away the best dildo material. It's soft to the touch, supple, and versatile. Generally, you can find silicone dildos that vary in firmness, as well. Some have no core, leaving them extra soft and easily malleable. Other silicone toys have a firm core inside, which helps them to feel realistic. Those dildos are soft but firm at the same time, which resembles the real deal.
Silicone lends itself well to detailed, intricate designs. It's not uncommon for silicone sex toys to look true-to-life, as well, down to the veins running the shaft of the dildo and the shape of the head. Because the material is durable and easy to clean, silicone dildos have a long shelf-life, as well, no matter how enthusiastically you play with your toy.
Even better, silicone is ideal for both anal and vaginal penetration. It's a top-notch material for strap-ons as a result. Cleaning it is simple. You can actually boil your toy, or clean it in a solution of bleach, soap, and water that you can make at home.
Real-Skin Playthings
As the name implies, real-skin toys make for life-like strap-ons and dildos, but you have to use these toys with caution. Although the material feels realistic, it also tends to get sticky and tacky, which means you have to dust it with cornstarch regularly to ensure it remains smooth and, well, life-like. That gets cumbersome after a while, especially because you absolutely cannot use talcum powder. It's irritating and potentially unsafe.
Real-skin isn't ideal for anal sex. The material is too porous, which leads to a high risk of bacteria build-up. If you want to use a real-skin toy for anal, then you need to cover it with a condom. You will be better off with a realistic silicone dildo made with the platinum silicone materials we specialize in here at Hankey's.
TPR/TPE Toys
TPR/TPE toys are realistic. It's commonly ranked among the best dildo materials because it's bendy and extraordinarily pliable, which is fun for sexy times. However, TPR/TPE is technically a rubber. As you know, rubber has long been considered bad news in the sex toy industry. Bacteria clings to it and can spread infection.
All the same, regular rubber is more or less okay for vaginal sex, but you have to wash it well and often. It's terrible for anal sex, though, for the same reasons as real-skin sex toys.
That being said, TPR/TPE is a skin-safe rubber, which sets it apart from traditional rubber jelly toys. Skin-safe rubber isn't softened by the same process as regular rubber. As a result, it's typically free from phthalates. That's the difference that makes it safe for sex.
It's still best to avoid rubber toys for anal, though. Even skin-safe rubber carries the same potential hazards as real-skin toys for backdoor action. You can play with them but use a condom. Keep a lookout for a firm, realistically textured toy instead.
Lovely Latex
Latex is a form of rubber, but it nevertheless results in life-like strap-ons, dildos, and inflatable toys. The material is more flexible than you can imagine, meaning that it can be molded into arousing and stimulating forms and shapes. Think about latex clothing, its smooth, sleek appearance, and imagine that sliding inside of you.
Most latex sex toys have the same tactile feel as silicone dildos and strap-ons. A firm center creates a life-like girth, while the ability to mold the finest details leads to a true-to-life exterior, as well. The best news is that the material is free of phthalates. Since you can clean latex with a simple antibacterial cleaning product made for sex toys, you can confidently use the toys for anal and vaginal sex.
Now you can pick out the best dildo material for you. Though, we're obviously partial to all the benefits platinum silicone offers. Visit Mister Hankey's Toys to find a matching harness.
•